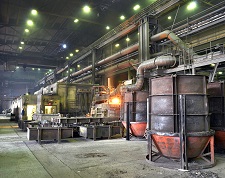 Steel Industries
In the Flat Products division of steel mills strip is joint to enlarge coils or to ensure continuous operation in the process
section of the line.

This is the achieved by using strip welding machines at the entry section of the line, using various welding technologies.

OXYTECHNIK is the market leader in the area of shielded arc welders for the stainless steel industry.
Strip Welding Machines
High demands are put on the weld between coils in continuously working strip processing lines regarding cycle time and seam quality.
Contact
Oxytechnik GmbH & Co.KG
Königsteiner Str. 20a
D-65812 Bad Soden

Phone+49(0)61 96-65 18 0
Fax +49(0)61 96-65 18 19
E-Mail mail@oxytechnik.de
Your hotline for OXYTECHNIK