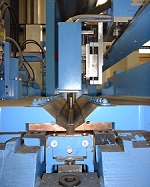 Strip Welding Machines
High demands are put on the weld between coils in continuously working strip processing lines regarding
cycle time and seam quality.

During nearly 50 years the strip welding machine KONTINUMAT® was perfected and today is the market leader in stainless steel strip processing, worldwide in
use at all well known steel producers.

Cutting and joining technology is patented.
Contact
Oxytechnik GmbH & Co.KG
Königsteiner Str. 20a
D-65812 Bad Soden

Phone+49(0)61 96-65 18 0
Fax +49(0)61 96-65 18 19
E-Mail mail@oxytechnik.de
Your hotline for OXYTECHNIK