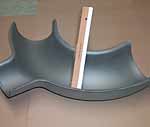 Robotic Cutting Systems
The robot cutting system is used for trimming of deep drawn workpieces of thin material using a working envelope of approx. 800 x 800 x 300 mm, using a
special turntable as additional robot axis, and the
Nd:YAG laser technology as cutting tool.

All cutting programs are developed once, only, and
during operation automatically recalled due to the
coding of the workpiece.

The system is developed for high precision parts where the
cutting edge is directly used for further processes.
Kontakt
Oxytechnik GmbH & Co.KG
Königsteiner Str. 20a
D-65812 Bad Soden

Telefon +49(0)61 96-65 18 0
Fax +49(0)61 96-65 18 19
Mail mail@oxytechnik.de