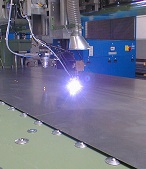 Welding Systems
The system produces large plate (blanks) by welding smaller sheets together, using equal or different
materials and thickness.

Features of the system are integrated weld prep by
laser cutting, automated joining of the sheets, and
welding using laser welding technology.

The grade of automation, also regarding the software
links to upper level control systems, depends on the demands of the individual customer.

Process data are memorized and can be recalled for further welds or for documentation purposes.
Kontakt
Oxytechnik GmbH & Co.KG
Königsteiner Str. 20a
D-65812 Bad Soden

Telefon +49(0)61 96-65 18 0
Fax +49(0)61 96-65 18 19
Mail mail@oxytechnik.de