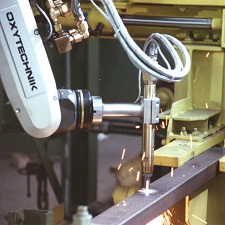 Robotic Profile Cutting Systems
The OXYTECHNIK® robotic cutting
system PROFISEC® is used for difficult 3-dimensional cuts in the shipbuilding
and offshore industry. It is in use around
the world at most well known shipyards.

Distribution-, handling- and storage-
systems as well as material marking for
parts identification are part of the system.

Also integrated processes such as milling
of edges as weld prep and removal of
primer along the weld prep can be incorporated.

Offline programming as well as downloading of cutting configuration data and process data from CAD/CAM systems simplify the operation and allow continuous operation.
Contact
Oxytechnik GmbH & Co.KG
Königsteiner Str. 20a
D-65812 Bad Soden

Phone+49(0)61 96-65 18 0
Fax +49(0)61 96-65 18 19
E-Mail mail@oxytechnik.de
Your hotline for OXYTECHNIK