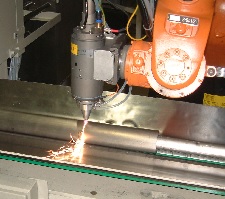 Pipe Cutting Systems
System for marking and cutting to length
of tubes with thin wall using a pipe support carriage with turning chuck and Nd:YAG laser cutting technology.

With integrated automatic pipe magazine
for feeding with pipes.

Appropriate measures are take to avoid spatter, transport smallest and lightest workpieces, as well as sorting of pieces according to various patterns.

As special design the machines concept is adapted to the customers needs.
Contact
Oxytechnik GmbH & Co.KG
Königsteiner Str. 20a
D-65812 Bad Soden

Phone+49(0)61 96-65 18 0
Fax +49(0)61 96-65 18 19
E-Mail mail@oxytechnik.de
Your hotline for OXYTECHNIK